« Sigur Rós New Album "Takk" | 回到主頁面 | Do They Know It's Halloween? »
2005-08-14, 12:36 AM
In Tokyo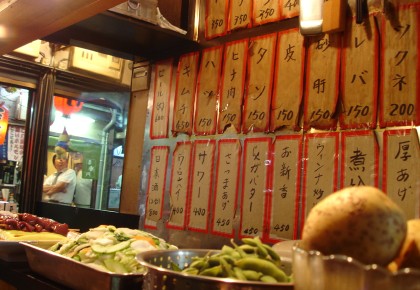 第一次到日本。
這次旅行將會停留一星期,前兩天的行程為東京場次的"Summer Sonic":http://www.summersonic.com/index.html,其餘幾天以市區觀光與各類唱片行尋寶為主。 也許之前已經聽了太多不可思議的形容與做好了萬全的心裡準備,東京並沒有如想像中的讓我Overwhelming。雖然錯綜複雜的各式鐵路系統確實使人眼花撩亂,但大致來說,我覺得東京好像台北(或者,台北好像東京),尤其我居住的新宿西口附近,根本就是加大版的西門町。 但現在說這話又太早了點,畢竟我連東京的百分之一都未見著;也許等離開時,這個國家與這座城市會給我截然不同的感受。回台灣的三個星期只想好好休息,Blog接近停擺狀態,累積的文章數量越來越多,連自己也沒有把握何時才能清理完畢。待八月底回紐約後,會開始恢復每日Update的辛勤Blogger生活,希望積欠的文章能逐日出清。 今天才從Summer Sonic的Day 1回來,很多心得,倒不是關於音樂方面,而是日本這個民族確實有趣,從他們的觀團過程就可瞧出許多端倪。而"Arcade Fire":http://pulp.bluecircus.net/archives/004759.html再度讓我淚流滿面,全身發麻,直呼:【看了他們,一切代價都已值得。】 從台北到東京的飛機上我重複聽著Bob Dylan的Simple Twist Of Fate,沒來由的,無法解釋的不斷重播,也許將它放上來會是個好主意。 They sat together in the park As the evening sky grew dark, She looked at him and he felt a spark tingle to his bones. 'Twas then he felt alone and wished that he'd gone straight And watched out for a simple twist of fate. They walked along by the old canal A little confused, I remember well And stopped into a strange hotel with a neon burnin' bright. He felt the heat of the night hit him like a freight train Moving with a simple twist of fate. A saxophone someplace far off played As she was walkin' by the arcade. As the light bust through a beat-up shade where he was wakin' up, She dropped a coin into the cup of a blind man at the gate And forgot about a simple twist of fate. He woke up, the room was bare He didn't see her anywhere. He told himself he didn't care, pushed the window open wide, Felt an emptiness inside to which he just could not relate Brought on by a simple twist of fate. He hears the ticking of the clocks And walks along with a parrot that talks, Hunts her down by the waterfront docks where the sailers all come in. Maybe she'll pick him out again, how long must he wait Once more for a simple twist of fate. People tell me it's a sin To know and feel too much within. I still believe she was my twin, but I lost the ring. She was born in spring, but I was born too late Blame it on a simple twist of fate.
[雜 記] 引用(0)
引用
迴響
In Tokoyo?
At Summer Sonic?
我太忌妒你了!
Have your good summer
期待你的新文章
由 way 發表於 August 15, 2005 2:45 AM
Ha~沒想到能在summer sonic巧遇版主~真羨慕你住在新宿西口~我也跟你一樣~覺得新宿很像西門町~可惜停留日本時間有限~我只在新宿逛了四小時~不過我終於在唱片行見識到傳說中"抽盤手"~竟然能在完全緊貼的lp中~迅速將lp一張張抽起~anyway~祝你能在新宿挖到寶!
由 salakola 發表於 August 16, 2005 12:18 PM
you must go to Fujirock Festival. I flew from Hong Kong just to see British Sea Power last year. Well worth every last cent that I invested (on this band). Stellar lineup, a real civilised, music oriented festival. No chaos and truly rubbish sound like Glastonbury (totally overrated). Go to Fuji Rock.
由 gigi 發表於 August 17, 2005 11:57 AM
那
你被我TAG了!!!
看我文章第一篇來回答私密大公開,齁齁齁!
由 顆粒斯丁 發表於 August 19, 2005 1:39 PM
to salakola,
我也在新宿的Disk Union看到了好幾名抽盤手,抽盤的速度顯然是練過好幾年的,我只能自嘆弗如。
該不會我們看到的是同樣一群人吧?哈。
to 顆粒斯丁,
什麼Tag啊?看不懂啦。
由 pulp 發表於 August 22, 2005 1:37 PM
NICE GREAT SONG!!!
由 BTS 發表於 May 22, 2007 7:30 PM