« Sometimes It Hurts | 回到主頁面 | 2002年終榜 - 1 »
2002-06-10, 12:30 AM
No Man's Land的搖滾想像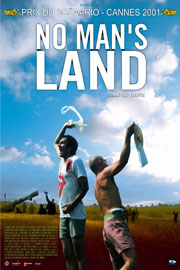 1.主角波士尼亞士兵從頭到尾穿了一件Rolling Stones的大舌頭T-Shirt。
2.1995年英國的獨立樂界發行了一張名為Help的合輯。此合輯全名為Help: A Charity Project for the Children of Bosnia,為的就是替戰火下的波士尼亞兒童募款。此合輯也在之後成為了經典,因其擲地有聲的樂團陣容和人道關懷理想。
3.1995年U2也替戰火下的波士尼亞寫了一首Miss Sarajevo(塞拉耶佛小姐),內容是描述一名波士尼亞的年輕女子在家鄉戰亂時出國參加世界選美大會。Music Video拍的非常感人(以半紀錄片的形式)。而這首歌同時也是和世界知名男高音帕華洛帝合作。這是我認為U2最好聽的歌之一,動人心弦、浪漫堅定。數年前遊瑞士時曾在唱片行裡看過二手單曲,可惜礙於身上旅費當時沒入手。
4.Miss Sarajevo除了作單曲發行之外同時還有另外兩個取得管道。它收錄在U2的Side-Project:Passengers唯一發過的一張專輯Original Soundtracks裡。此外帕華洛帝替波士尼亞兒童請命的96年專輯Together for the Children of Bosnia也收錄了這首歌。
[電 影] 引用(0)
引用
迴響
I just happened to click on your blog and I found this is a great blog about your love of music. Truly inspiring.
Anyway, just to let you know that you can get the live version of Miss Sarajevo from U2 Vertigo tour (live from Milan) too.
Bono sang the Pavarotti part and in my opinion, hes even better!
由 Joshua 發表於 December 31, 2006 2:57 AM
to Joshua,
I think what you mentioned is the CD/DVD edition of U218 Singles.
I just saw it a couple weeks ago in Virgin Megastore, and it totally blew me away.
Though I've already known every trick that Bono and his gang will bring to the stage, but I must admit that they are still the best live band in the world.
Regarding of Miss Sarajevo, I still prefer the original version with Pavarotti's vocal. :)
由 pulp 發表於 January 2, 2007 12:43 PM